Villa Layout
You arrive at Villa Waimarie through the main gate into the brick-paved courtyard and parking area, with the tennis court on the left. From there, a brick path leads through an elegant archway into the gardens and past the rooms, on left and right, and then to the main focus of the villa: the beachside pool with the huge sala to the left, lounge and entertainment room facing the ocean, dining and kitchen pavilion to the right. Just a couple of steps away is the beach itself.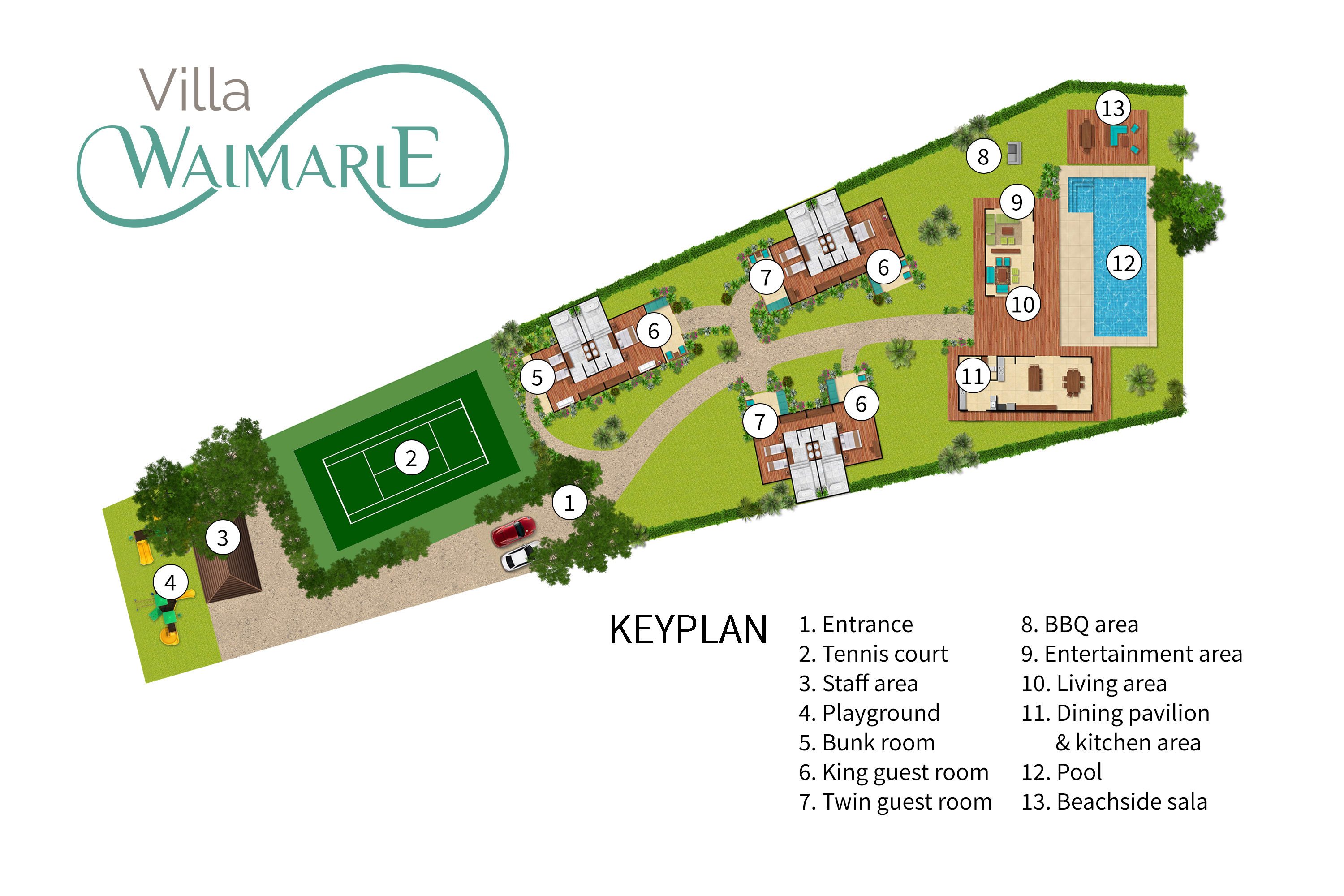 Download in high resolution

Living Areas
Indoor living
As befits its beachside tropical location, much of Waimarie's indoor living is almost outdoors, with wide glass doors to the lounge and dining pavilions opening to allow the sea breezes and the view of the Gulf of Thailand to float into the interior.
The dining pavilion, attached to the kitchen, has a large square table that easily seats 12, as well as a spacious breakfast bar. There are four refrigerators, including a wine cooler, and a well-equipped and stocked coffee station. One wall is taken over by a large replica of a bas-relief from Angkor Wat, showing a Hindu god and his court.
Close by, the lounge pavilion has huge sofas and armchairs to sink into. An impressive teakwood central divider splits the room into social/reading area and entertainment area. The latter has a generous wide-screen TV with satellite connection, DVD player, Apple TV 4K box, and iPod station. A high-end stereo connects to smart phones or other compatible players, to relay guests' choice of music through the lounge and the neighbouring sala.  
Here, too, the owners' love of classic Asian art is in evidence, the back wall being home to two intricate wood carvings.
Outdoor living
A big favourite with Waimarie guests is the beachside sala. It's huge: big enough for a long dining table with benches either side, and a massive L-shaped sofa and two armchairs looking out to sea. Fans in the vaulted ceiling keep the shady interior cool. This is the real social centre of the villa.
Some people like swimming in the sea; some prefer a pool. At Waimarie you're spoiled for choice. The 15 -metre pool, partially shaded by a large banyan tree with twisted roots, is two steps away from the beach
The extensive gardens surrounding the rooms at Villa Waimarie are a tropical delight, with manicured lawns fringed with hedges of yellow and red ixora, and overhung with scarlet flame-of-the-forest bushes. Presiding over all are tall coconut palms and an African tulip tree, which carelessly drops huge orange booms onto the lawns below. Birds and butterflies flit constantly from one leafy nook to another. And kids will be thrilled to find a playground within the villa gardens.
For those who just can't idle in the sun, the sea or the pool all day, the villa has a swing hanging over the beach, table tennis, and all the equipment you'll need for a game of football or volleyball on the beach. If you prefer your activities wet and salty, there are two sea kayaks and two stand-up paddleboards. Pride of place in the list of activities goes to the private tennis court, which also has a basketball hoop in one corner.
And then there's the beach. Lipa Noi Beach has to be one of the world's most delightful yet least known tropical gems. Soft white sand with almost no one on it. Warm sea with islands in the distance. And at sunset, the perfect venue for a sundowner or two.

Bedrooms
The six bedrooms at Villa Waimarie are arranged in pairs in three spacious bungalows. Each pair has a connecting door making the bungalows ideal for families, though these doors can, if required, be locked for privacy. Each air-conditioned room has a shady veranda with sofa and armchair. All six rooms have huge ensuite bathrooms with double vanities and a rain shower. Pride of place, however, goes to the elegant freestanding bathtubs, each set beneath a glass roof. Botticelli's Venus would be delighted to emerge from such a shell.
Three King Guest Rooms
Through the sliding glass doors of each of these rooms, a luxurious king-size bed - one of them a four-poster bed with mosquito netting - waits beneath the sloping white ceiling with its wooden beams and ceiling fan. Facing the bed is a large chaise lounge with colourful cushions and, in a corner, an elegant teak desk and chair. These are rooms not only for sleeping but also, perhaps, for a nightcap and a quiet discussion about plans for the following day. Let's sleep on that.
Two Twin Guest Rooms
These two bedrooms, though smaller, are every bit as comfortable. Each has two large single beds, ideal for children of any age, or simply for good friends. If preferred, the beds can be joined to make kings. One of these rooms has a wide-screen TV and DVD player.
Bunk Room
The same dimensions as the twin bedrooms, this room features a pair of bunk beds. Perfect for a bedtime game of pirates or spaceships. But all of the bunks are full-size singles, so can also accommodate teens or adults. Anyone for a pillow fight? This room is also equipped with a wide-screen TV and DVD player.